Sponsor a Kiddush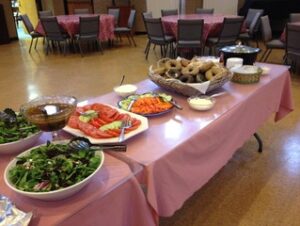 Each and every Saturday, Beth El provides a kiddush luncheon for its members and guests (when COVID-19 protocols permit). Prepared by our amazing kitchen staff, the food is delicious and the company is wonderful!
Sponsoring a kiddush allows our members to share their life celebrations (anniversaries, birthdays, and more) with the congregation.
A sponsored kiddush can be modest, or you can feel free to add to the food selections and make the kiddush something to remember!
Interested in sponsoring a kiddush? Contact Bill Walter at bill@bethelhbg.org.