December 2, 2023, 10:00 am
Beth El Temple
2637 North Front Street
Harrisburg, PA 17110
Add to iCal | Add to Google Calendar
This monthly kid-focused Shabbat morning rotates between Beth El Temple and Chisuk Emuna Congregation. Everyone is welcome to attend!
December's event will be at Beth El and will include both Pray and Play (for children in preschool-1st grade) and Gesher Shabbat (for 2nd grade and above).
See the schedules below for future events, as well as for information about additional programming for children.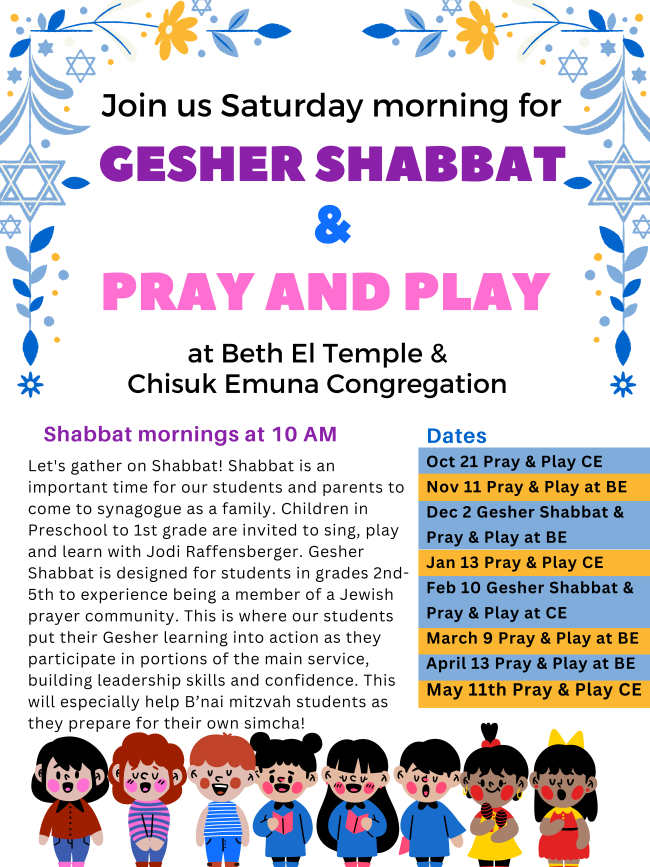 New this year, we are also introducing the Gesher Gan program on one Sunday morning per month, as a way to introduce kindergarten and first grade students to the Gesher Religious School.  This fun program features art, music, dance and exploration around Jewish holidays and introduction to alef-bet lessons, aimed at our Beth El, Chisuk Emuna, and Silver Academy families!  Contact Mandy Cheskis at mandy.gesherdirector@gmail.com or 717-649-4220 for more information or to register for Gesher Gan.